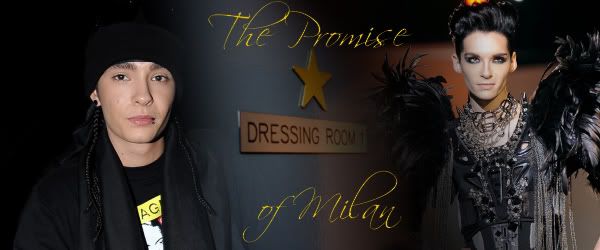 Title:
The Promise of Milan
Author:

steinsgrrl
Fandom:
Tokio Hotel
Pairing:
Tom/Bill
Disclaimer:
This is a work of fiction. I in no way intend to insinuate that any of the below actually happened. It is simply a piece of written entertainment based on the public personas of real people.
Rating:
NC17
Warnings:
Adult Content, Light Kink
Summary:
In the moments before Bill hits the runway in Milan, Tom questions their future. Until he sees Bill.
Author's Note:
For

traumheist
, because she offered her first born. ;) Thank you to my lovely beta,

ma_chelle
and banner maker,

lrigrl
. Also,

fyredancer
for the mutual cheerleading. :)
( There were half naked men everywhere. )