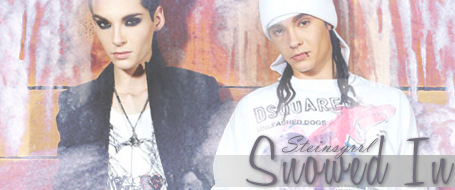 ♥Fluff Friday♥
Title:
Snowed In
Author:

steinsgrrl
Fandom:
Tokio Hotel
Pairing:
Tom/Bill
Disclaimer:
This is a work of fiction. I in no way intend to insinuate that any of the below actually happened. It is simply a piece of written entertainment based on the public personas of real people.
Rating:
NC17
Warnings:
Adult Content
Summary:
The snow keeps falling whether Bill likes it or not. But maybe it's not such a bad thing, after all.
Author's Note:
So many thanks to

ma_chelle
for the quick beta and amazing feedback. You're a gem, my dear.♥ Also, thank you to Tokiobillhotel for the lovely banner! Written for Fluff Friday, though I think this may be more smut than fluff. You be the judge!
( Bill pulled the curtain back... )